A West Midlands woman who became homeless with a baby on Christmas Eve helped win a major award for the housing group that transformed her life.
Danielle Harrison joined Housing Plus Group on stage at the Midlands Business Awards on Friday when they won the Corporate Commitment to the Community category.
The story of the mother-of-one, who was interviewed by judges to help choose the winner, was just one example of the Group's work in Shropshire and South Staffordshire that was celebrated by the award.
Others include how it delivers care and support to help older and vulnerable people live independently in their own homes and the way it supports hundreds of tenants every year by providing financial advice as well as improving their qualification and employment opportunities.
Building new homes and its annual investment of nearly £20 million in repairing maintaining and improving properties were also highlighted along with innovative Fair Landlord policies which better inform decisions about charges, spending and investment.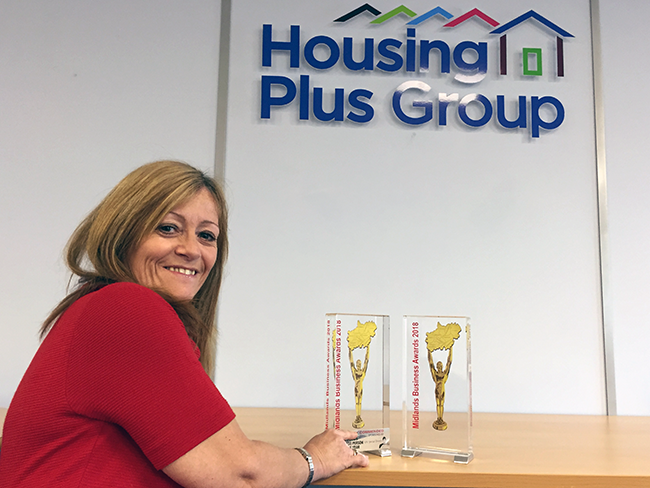 Neighbourhoods director Jan Goode with the awards.
"Through this award, the Group has given me an opportunity to help highlight their life-changing work," said 27-year-old Danielle. "I don't know where I would be without their support so I was thrilled to join them on stage when they received this deserved recognition."
Following a marriage breakdown, Danielle and her new baby Eli found themselves homeless during Christmas 2016. Then, after a short stay in emergency B&B accommodation, South Staffordshire Housing Association, which is part of the Group, helped her move into a flat in Penkridge.
And Danielle's circumstances kept on improving when she got a new job answering emergency calls for West Midlands Police.
 "I can't thank Housing Plus Group enough not just for providing a home but offering help and advice," she said. "I now have a much happier life, a new job and most importantly a new home – Eli and I have a secure future together."
At the awards, the Group was also a finalist for Service Provider of the Year and their Neighbourhoods director Jan Goode was highly commended in the Business Person of the Year category.
"The award really shows the Housing Plus Group commitment and passion for making a difference to the communities we work within and we're so proud to be recognised in this way," said Jan.